Diagnostics
Having your vehicle periodically inspected helps identify problems before they start. We will examine components most often responsible for a breakdown. The list of things we check can include—but is not limited to—fluid levels and quality, tire condition, battery, belts and hoses, burned-out lights and more.
Maintenance
The best way to avoid major auto repairs and costly breakdowns is to keep current on your vehicle's scheduled, routine maintenance. Adherence to your manufacturer's schedule of services is the best way optimize your vehicle's performance, safety and service life.
Repairs
Your automobile is a complex, marvel of engineering and ingenuity. However, even under ideal conditions, your vehicle is subjected to wear and stress. In northern Illinois; we know that road conditions, weather and corrosion lead to fatigue and eventual part failure, making the need for repairs an absolute certainty. From simple jobs to complex rebuilds on foreign and domestics, we have the experience and knowledge to get you back on the road.
400 SUPER SERVICE, INC.
1310 Sherman Avenue
Evanston, IL 60201 USA
—ENTRANCE IN REAR—
HOURS OF OPERATION
MON-FRI: 7:30am - 5:00pm
SAT-SUN: Closed
TIRES, BREAKS, SUSPENSION
Tires
If you don't regularly inspect and service your tires, you may experience a blowout, a flat, or worse. 400 SUPER SERVICE, INC. has the right tires for your vehicle and offers services you need to keep your tires in good working order. We will inspect your tires, perform a tire repair, or replace them entirely.
Wheel Alignment
Drifting from side to side or a tilted steering wheel while driving straight are symptoms of a vehicle in need of wheel alignment services. Rotating your tires helps ensure tires wear evenly. It is an important part of auto maintenance that involves adjusting the position of tires around the car.
Breaks
Brake maintenance is important in helping ensure the safety of you and your passengers. If your brakes are making a squealing sound or you hear grinding when your car comes to a stop, these may be signs that you need brake service immediately.
Shocks and Struts
The suspension system ensures that your wheels stay in contact with the road. If you have recently been experiencing a bumpier than normal ride, it may be time check out your suspension system. Shocks help to smooth out your ride. They provide measured resistance every time the wheels on your vehicle bounce up and down & help you maintain proper control. Struts control spring and suspension movement to keep tires in contact with the road. Most strut suspension systems combine coil springs and shocks into one unit and typically have a longer life than conventional shock absorbers, but will also experience wear.
MUFFLERS, EXHAUST, EMISSIONS
Mufflers and Exhaust
The exhaust system ensures toxic exhaust fumes stay out of your car cabin and works to make your engine run correctly. It also helps give you the best possible fuel efficiency and cuts emissions that pollute the air.
Emissions Checks and Service
While your exhaust system helps reduce noise output from your vehicle, it also significantly reduces harmful emissions from being released into the air. When your muffler and exhaust system functions properly, it significantly reduces your vehicle's harmful impact on the environment. It also significantly improves the functionality of your vehicle. 400 SUPER SERVICE, INC. can diagnose and repair your exhaust system and help you pass your emissions test.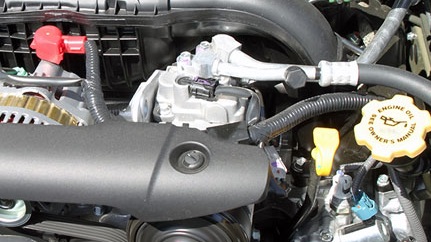 Transmission Service
The transmission is one of the most important parts to any vehicle. Without it, the power from your engine will never reach the wheels, leaving your car useless. Over time, the fluid and filter in your transmission will start to wear down. Some of the common signs of transmission problems could be one or more of the following: fluid leaks, dragging clutch, shaking or grinding, slipping gears, strange smells, or warning lights.